Guatemala's Karla Higueros art exhibition at the Agora Gallery in New York
Published in Guatemala News by Barbara Shieber
Guatemalan born artist Karla Higueros believes that through her artwork she expresses her deepest feelings, energy, emotions and spirituality. This translates in moods and actions that interact with the canvas at the moment of producing a painting; therefore achieving its own life, which in turn she can sense when she utilizes sand that passes on to her its natural flow and movements. These natural movements in her painting are not forced or compelled; they simply are a translation of the harmony that exists between the sand, the canvas and the spirit of the artist.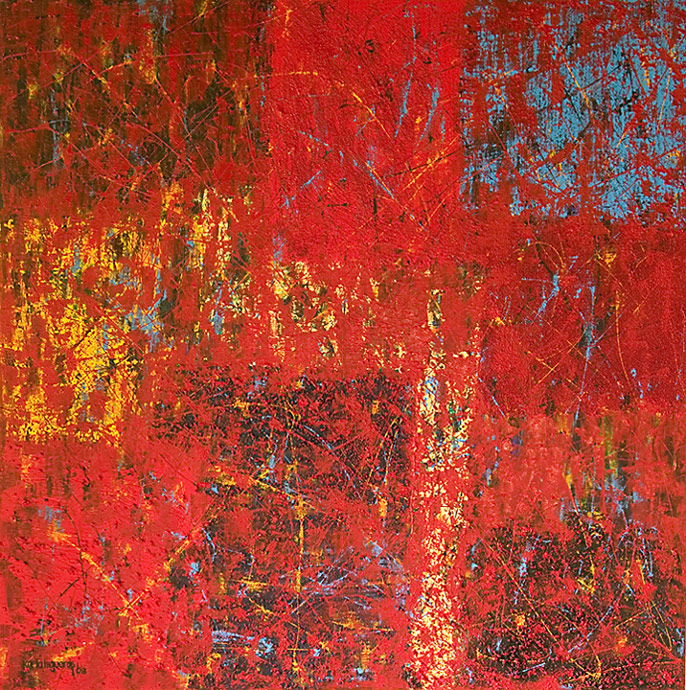 Although self-taught in painting, she combines multiple techniques with her natural artistic abilities in her acrylic works, utilizing sand and other materials to convey texture and movement through abstraction.
Her natural appreciation for art and her studies and 10 years of work in the advertising field, combined with living and having her studio in La Antigua Guatemala, Guatemala -UNESCO World Heritage Site, a mystic place surrounded by active volcanoes constantly hurling dark sand, together with the rich culture and colours of the Mayan tradition in Guatemala, have influenced her inspiration and artistic work.
Karla Higueros art exhibition at the Agora Gallery in New York
Exhibition Announcement
Agora Gallery is proud to present Karla Higueros in Enigmatic Visions.
Exhibition Dates: January 30, 2009 through February 19. 2009
Opening Reception: Thursday, February 5, 2009, 6-8 pm
Gallery Location: 530 West 25th Street, Chelsea, New York
Gallery Hours: Tues – Sat, 11am-6pm
Karla Higueros' work may be seen on AGORA Gallery, New York website
About Karla Higueros:
Guatemalan artist Karla Higueros is self-taught. One utters that fact not as an excuse but as a marvel, for her body of work shows the originality of vision and controls of tone and technique evincing a discipline not always on display on the canvases of even the highly trained.
Her artworks are like rectangular windows into dense, otherworldly landscapes full of driving wind and each with its own unique, all-encompassing light. She achieves these images mostly through the mixture of acrylics and sand, carefully considering and then attacking her canvas with a thoroughness that Jackson Pollock would recognize. "My paintings achieve their own life that I can sense when I use sand, which passes on to me its natural flow and movements, such as in sand dunes and in river beds," reports Higueros. "These natural movements in my paintings are not forced or compelled; they simply are a translation of the harmony that exists between the colours, the sand, the canvas, and my spirit as an artist."
About Enigmatic Visions- Fantastical creations that arrive at the furthest reaches of imagination await the viewers of Enigmatic Visions. This group was selected because they are seekers who delve beneath everyday appearances into unknown worlds of inspiration and splendour. Through their abundant abilities and unique voices the artists included in this exciting exhibition speak directly to our souls and refresh our spirits.
Quotes from the artist
About her work: "For me, to paint is not a regular activity or a pastime; it means the purest expression of my soul where and when natural, spiritual and mystic factors converge. This in turn allows me to attain a harmonious state of being; principally when I am in touch with a natural element such sand. Most of my work, and principally my latest ones include sand in order to have always present that each painting is a live piece in which there is an interaction of my feelings, my thoughts, desires, and dreams so real like the sharpness and toughness of each grain of sand that I can feel when they slide through my hands when I am mixing and placing them in my acrylic paintings. "
How her Culture has influenced her work:
"Having being born in Guatemala, where the majority of its population is of Mayan descent, I have been blessed with the opportunity of being surrounded by its culture, textiles and fabrics rich in natural colours and shapes. Natural textiles and colours fabricated since ancestral times by the Mayas, allowed me to observe and absorb the pure colours and shapes with no artificial alterations. Additionally, Guatemala's nature surrounds me with vegetation, active volcanoes, rivers, oceans and lakes that make me want to include natural elements in my paintings."
Events that have shaped her art:
"Having enriched spiritually my life with the study of oriental cultures and religions such us Buddhism, as well as with my current and active participation in social and charitable activities with the Catholic Church in La Antigua Guatemala, together with the reading of the Dalai Lama teachings and the practice of yoga and reiki, have been the best that could have happened to me in order to achieve the spiritual harmony I need to paint. When I paint I need to be in a state of calmness and peace in order to be able to express through the colours and shapes what I feel and what I want the observer to feel; considering that the painting should be a dialog between the observer and the soul of the artist. "
Hardest Obstacle as an artist:
"TIME! It was and it is the hardest obstacle for me as an artist. The days don't have enough hours and the months don't have enough days in order for me to produce what I have inside of me. Since I have a compelling need to be involved in charitable activities (right now I am working in the construction of a communal center for destitute persons), I invest a lot of my time in these activities. However, getting involved and meeting those persons enriches my life and feeds my soul, since inside most of them there are worlds of dreams and fantasies that I can share with them. "
Source and Image Credits: AGORA Gallery, New York